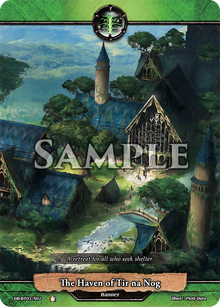 Banner cards are cards that represent the colors, and thus nations, of the player's deck.
Each player has 3 banners, each placed behind one of the player's three forts at the beginning of the game. The color of a fort is the color of the banner behind it. Banners count as cards in your resource zone and can be used to pay for costs, but do not count as "resource cards" for the purposes of effects. The player's dice determine the colors of a player's banners; for example, if a player has one red die and two green dice, they must have one red banner and two green banners.
There are five banner cards, one for each color:
Card Name
Located near the bottom edge of the card. The card's name.
Card Type
Located near the bottom edge of the card, under the card name. The type of the card, which states "Banner."
Nation Symbol
Community content is available under
CC-BY-SA
unless otherwise noted.