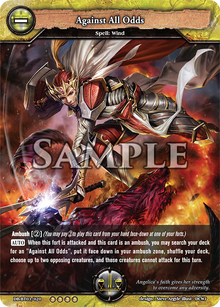 Spell cards are cards that can be played to cause a one-time effect. Spells can be played during the main phase, or when used as an ambush. After a spell's effect resolves, it is put into the discard pile.
Parts of a spell card
Cost
Located in the upper-left corner. The number of resources needed to cast the spell. One of the resources used must match the color of the spell. Spells with a "-" cost cannot be summoned normally.
Card Name
Located near the top edge of the card. The card's name.
Card Type
Located near the top of the card, under the card name. The type of the card, which states "Spell:" followed by the spell's type.
Card Art
Located at the center of the card. The card's art. Takes up most of the space on the card.
Card Text
Located near the bottom of the card. The spell's effects are listed here.
Nation Symbol
Set Number
Located at the bottom-left corner. Indicates the set the card is from and its card number within the set.
Illustrator
Located at the bottom-right corner. Indicates the illustrator that drew the card's art.
Community content is available under
CC-BY-SA
unless otherwise noted.